Partner Articles
Staffing optometry: Adapting to the Great Resignation
The Great Resignation is presenting problems for all kinds of business. Optometry staffing has become increasingly difficult. But what if the solution didn't include hiring?
Published 5.5.2022
Need to hire front desk staff for your optometry practice? You're not alone. Optometrists are turning to technology such as website live chat and automated payment processing to make things easier for their remaining staff - and finding they're saving time while increasing job satisfaction, patient satisfaction, and revenue.
The Great Resignation is becoming the Great Reshuffle as 44% of employees are looking for new jobs, according to CNBC. Nearly 4.3 million people quit their jobs in January 2022. That's causing business owners including optometrists and ophthalmologists to get creative as they seek ways to keep their practices running smoothly.
One of the keys to retaining good employees is to increase job satisfaction. Your remaining employees may feel tired, overwhelmed, and overworked. Fortunately, there are solutions that can help them save time and reduce stress.
Live chat for scheduling optometry patients
One of those solutions is adding a 24/7 live chat to your website.
Potential patients are coming to your website all hours of the day and night. People like the convenience of being able to search online for an optometrist and have their questions answered immediately. Almost 40% of website visits happen in the early morning, at night, or on weekends when most offices are closed.
If you're asking potential patients to fill out a form or to call and leave a voicemail, you're missing out on revenue. People don't want to have to wait until business hours to get the answers they need. And no one wants to pick up the phone and call anymore.
Patients like the immediacy of a live chat. They also like that it's more discreet than a phone call. If somebody is at work, they may not want to have a colleague overhear them making an eye appointment, especially if it's a sensitive health issue.
Adding a 24/7 live chat to your optometry website is a simple and inexpensive way to extend your front desk online so patients can make appointments more easily, without adding any extra staff or extra work for you.
Look for a live chat service like Simplifeye whose team responds within seconds to website visitors, answering their questions and collecting the contact details, insurance information, and reason for their visit to securely share with your optometry front desk staff. Then all your team has to do is finalize the appointment date and time.
24/7 customer service without adding staff
With the optometry industry staffing shortage, your practice needs every advantage it can get. Patients don't want to call and get put on hold or sent to voicemail. And your front desk staff doesn't want to have to wade through messages or juggle the phones and the patients standing in front of them.
Adding a live chat to your website cuts down on the number of phone calls - which saves your team hours on the phone. If you choose a service like Simplifeye, your team will be sent a HIPAA-compliant email every time there is an appointment request, with a link to the record containing all the details your team needs to be able to follow up quickly. There's also a cloud-based, HIPAA-compliant dashboard that can be accessed from anywhere.
Many optometry practices choose to customize the scripting the chat team uses so it mirrors the phrasing used by the front desk staff. This is particularly helpful when describing how your practice works with out-of-network insurance carriers.
Adding a live chat to your website also cuts down on voicemails. Simplifeye encourages practices to change their voicemail recording to say, "Please leave a voicemail or you can visit our website to chat with a live representative right now."
The practice can even set up a rule to have the live chat team flag emergency eye care situations and alert the doctor or a staff member after-hours. This is also completely customizable.
Fill open chair time in your optometry practice
One of the other benefits of adding live chat technology is it creates a database of potential patients, which is a great resource for filling open chair time.
When somebody calls your practice but decides not to schedule, that's a lost opportunity. With live chat, you have a record of who expressed interest in coming in, what they needed, and how to contact them.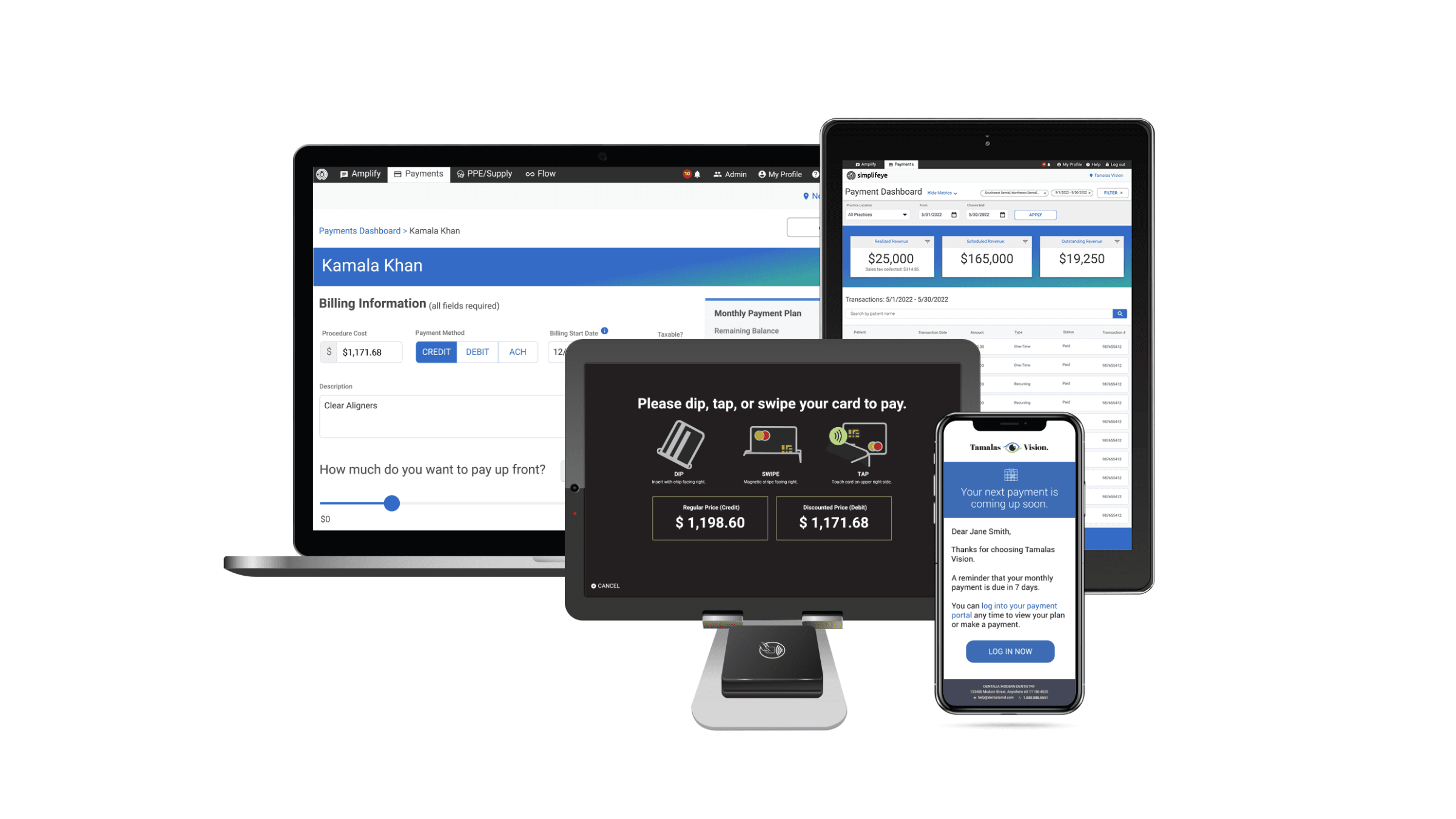 Save time with digital payment processing
Another system that can be updated to save your team time is how you check out patients.
If you're still requiring patients to pay at the front desk, consider adding a wireless card reader that can accept payment from the consultation room or exam room.
That eliminates the need for patients to wait in line, and reduces the stress the front desk receptionist might feel seeing a long queue.
Plus, updated card readers accept more than just credit and debit cards. They can accept Apple Pay, Google Pay, ACH, and more methods of payments.
Text-to-pay invoices get paid faster
Companies like Simplifeye also offer text-to-pay invoices, which is quickly becoming a must-have for healthcare practices. A study by Reviews.org found that 70% of Americans check their phones within five minutes of receiving a notification. By embedding a click-to-pay link, companies get paid faster.
When patients pay you faster, your team spends less time chasing down late payments. When you're short-staffed, that's incredibly helpful.
Deliver excellent patient care despite staffing challenges
By updating just these two systems to make it easier for patients to schedule and pay you, you're ensuring patient satisfaction and helping to make work a lot easier for your staff. That reduces staff turnover in your optometry practice, keeps revenue flowing in, and saves you and your team from having to spend time finding and training new employees.
Author
Dr. Ryan Hungate
Dr. Ryan Hungate is the founder and CEO of Simplifeye, a company focused on streamlining processes to increase patients and revenue while decreasing overhead. Dr. Hungate is one of the country's leading experts on the intersection of healthcare and technology. He shares easy-to-implement advice for dentists who want to modernize their practices and reduce overhead by adding automation and workflows to help their businesses run more efficiently. Previously, Dr. Hungate worked at Apple's headquarters and helped design the customer workflow adopted by Apple's retail stores globally. For more information, visit Simplifeye.com.
Related Articles