Lens Comparisons
Comparing Nikon progressive lenses and Varilux progressives
Nikon is relatively new to The States while Essilor's Varilux has proven to be THE dominant lens player over the last few decades. The question is: how do they compare?
Published 1.5.2022
If you don't know what Varilux is, then you're probably not in eye care. That's not by accident. EssilorLuxottica has made a point of ensuring market dominance for Varilux progressive lenswear. They're the only lens manufacturer that has spent millions of dollars directly marketing to consumers. They've done a great job bringing attention to their Crizal coatings, Transitions treatments, and Varilux progressive lenses. But does any of that mean Varilux progressives are better than Nikon progressive lenses?
Anagram Spyglass is taking a deep dive into Essilor's Varilux line of progressives versus Nikon progressive lenses in order to determine if one really is better than the other. Interested in the answer? Keep on reading to find out!
Why look at Nikon progressive lenswear? 
It's easy to assume there aren't many options for independent lenswear today.
Currently, the dominant line of progressives is Varilux; a lens product historically made by Essilor, now under the umbrella of EssilorLuxottica which also owns Eyemed, Lenscrafters, Pearle Vision, For Eyes, and other entities in the eye care industry.
Some ECPs are fine with operating in that ecosystem. If it works for your patients then great! But others prefer to run their business with independent lab and vendor partners. We want to make sure that if that's you, you have the information you need to make the best eye care decisions for your patients.
You can offer patients choice without making a clean break with Varilux or shoehorning Nikon in where it isn't beneficial. But if you give your patients real choices —and if one of those options is an iconic, global brand—they'll appreciate it.
We know that you're in eye care to improve the lives of your patients. We believe that Nikon's progressive lenses do just that. We want to help you understand how Nikon's progressives work so you can confidently recommend them to your patients and have them thank you for it!
Nikon is making this easy by offering a few free lenses for your most sensitive patients or yourself to try. So many ECPs are at least familiar with Varilux that these lenses are a good baseline for comparisons. Comparing Nikon progressive lenses vs. Varilux progressives will give you a better idea of where Nikon lenswear stands and make the lens conversation with your patients a bit easier.
As Nikon continues to make headway in the U.S. optical market, it will be increasingly important for ECPs to understand their offerings. Nikon is already a brand patients know, whether or not they've worn Nikon lenses before. And it's a brand patients associate with quality lenses. It's not much of a leap for you to explain that the technology that makes Nikon cameras so great is the same technology that makes their optical lenswear exceptional.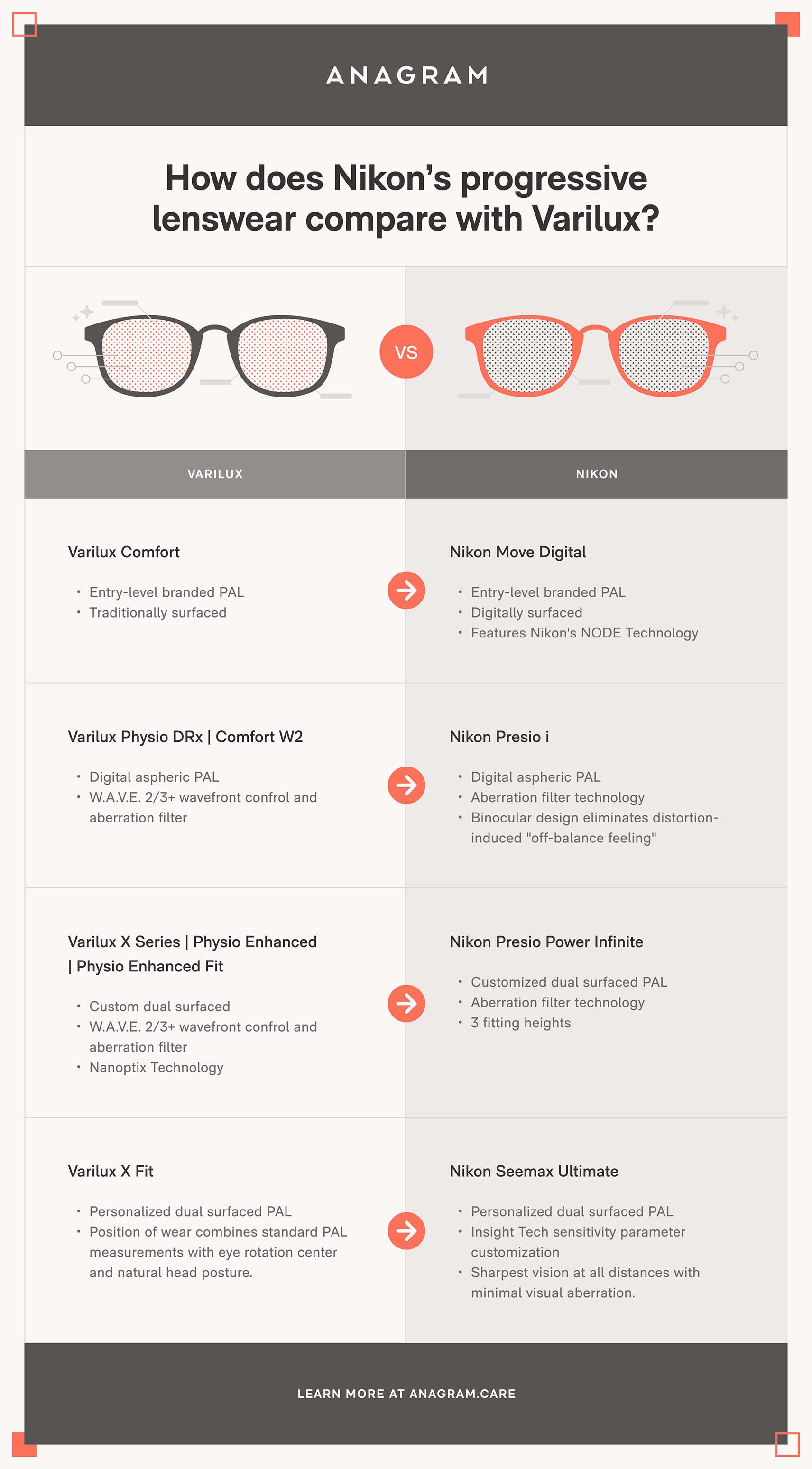 Nikon progressive lenses vs. Varilux progressives: Which is better?
We know Nikon lenses are worth taking a look at (and through!), but how do they compare with the eye care industry's most dominant line of progressives?
Here's a closer look at the progressives that Nikon offers and how they stack up against comparable products in the Varilux line. You may be surprised at what you see!
Entry lenswear: Nikon Move Digital
Let's start by looking at the Nikon Move Digital, Nikon's value branded digital PAL. This line is designed to be an affordable progressive option. The Nikon Move Digital is powered by Nikon Optical Engine Design or NODE. NODE is a powerful calculator that allows each design to be mapped out at the submicron scale via infinite calculation loops. Nikon uses the same engine when elaborating optical surfaces through its advanced technologies center.
When it comes to Varilux's own progressives, the nearest option is probably the Varilux Comfort. Varilux Comfort is a conventional progressive that provides patients with easy and comfortable transitions between near, far and in-between. Both the Varilux Comfort and Nikon Move Digital lenses come in standard and short corridor versions. What sets Nikon apart is that their entry level progressive is digitally surfaced, which can lead to increased visual clarity and smaller soft focus areas.
Good lenswear: Nikon Presio i Digital
The Nikon Presio i is a technological step up for patients as compared to the entry level Nikon Move Digital. This product includes fully customizable aberration filter technology with base curve options. The progressive design offers patients balance at all distances It also uses binocular design to eliminate the off-balance feeling created by horizontal distortion found in other progressives.
The Varilux Physio DRx and the Varilux Comfort W2 are most similar to the Nikon Presio i. Why? Because the Varilux Physio DRx is outfitted with W.A.V.E. (Wavefront Advanced Vision Enhancement) Technology and the Varilux Comfort W2 features the upgraded W2 (W.A.V.E. Technology 2). These technologies offer patients sharp vision at all distances and in dim lighting by customizing wavefront control and reducing high order aberrations. Even a patient's larger pupil doesn't allow distortion to come through.
While the Varilux Physio DRx and Varilux Comfort W2 are great lenses, your patients won't find Essilor's Nanoptix Technology in either. This is Varilux's proprietary process designed to lower distortion and eliminate off-balance feeling especially when walking down stairs or stepping off of curbs.
Better lenswear: Nikon Presio Power Infinite
Nikon Presio Power Infinite is both Nikon's best customized PAL and Nikon's best-selling lens by volume. The goal for Nikon Presio Power is to provide natural and effortless vision through its gen. 2 aberration filter focusing on both horizontal power lines and softening the center of the lens. Like most of the other progressives Nikon offers, it features aberration filtration and is fully customizable on the front and back along with three corridor lengths: 10mm, 12mm and 14mm.
Perhaps the standout feature of the Nikon Presio Power Infinite line of lenses is the extremely quick and easy adaptation period. Patients will love the feeling of putting on their new glasses and immediately having crisp, clear, and comfortable vision. There are no more questions about why high-quality lenswear isn't working when it starts working right away.
The Varilux X series is the closest comparison to the Nikon Presio Power Infinite. The Varilux X series, as well as the higher end Varilux Physio lenses, are digitally surfaced like the Nikon Presio Power Infinite. These progressives also feature the same technologies as the aforementioned Varilux options such as W.A.V.E. Technology 3+ but this time with Nanoptix Technology.
Best lenswear: Nikon Seemax Ultimate
The Nikon Presio Power Infinite may be the best customized PAL, but the personalized Nikon Seemax Ultimate is Nikon's top of the line PAL ( and a Lenswear Innovation Nominee at Silmo 2021). This completely bespoke lens can adapt to previous designs and features Nikon's Insight Tech sensitivity parameter customization. Nikon Seemax Ultimate offers patients the sharpest vision at all distances with the smallest amount of visual aberration.   Nikon's top of the line progressive is the only lens in the market today that has no base design, it takes the process of customization to new levels by introducing a completely new sensitivity parameter.
Similar to the Nikon Presio Power Infinite, the Nikon Seemax Ultimate has an extraordinarily fast adaptation period. Patients quickly notice the quality, which not only makes it an easier sell for ECPs, it improves the practice's reputation by providing the kind of instant gratification many patients are looking for these days.
The closest Varilux comparison to the Nikon Seemax Ultimate is the Varilux X Fit. The Varilux X Fit has all of the benefits of the Varilux X design with added prescription tailoring to the frame and fit. Also a bespoke option, these lenses offer patients personalized measurements and prescription modification that allows for maximum lens performance.
Join Anagram's Monthly Newsletter
Nikon progressive lenses vs. Varilux progressives: Patient affordability
Most lens vendors are working with similar technology. The names may different, but the innovations in modern lenswear are available from vendors across the board. However, choosing the companies you work with goes beyond their catalog, right? There's no denying that Varilux makes an excellent lens product. But is it the right product for your practice? For your patients?
If you're interested in offering your patients Nikon lenswear, we can help with that. Nikon lenswear is eligible for rebates thrgouh Anagram Prosper. What does that mean? When patients purchase Nikon lenswear, participating providers can send cash back directly to their patients' devices! These rebates work like reimbursements in that they make independent lenswear more affordable. There's a big difference, though. They don't chip away at your margins or require you to cede control of your optical to a corporate competitor. Take a look at the screenshot below to see how Prosper calculates rebates on Nikon lenswear:
In this case the patient gets back $43.81 just by purchasing the Nikon Seemax Ultimate! All you have to do to offer these cash back rewards to patients is join Anagram Prosper and open accounts with our participating vendor partners.
Author
Connor McGann, Content Marketing Manager
Connor McGann is Anagram's content marketing manager. He joined Anagram in February 2020. Previously he was a finance writer and animation project manager at a marketing agency, and managed content for a live chat provider that serviced various industries including health care and plastic surgery.
Related Articles